DYKE NEWS
is a community newsletter lovingly printed on a RISO GR3770 on Lekwungen and W̱SÁNEĆ territories (victoria, bc canada) with a goal of fostering a local community space in print for dykes, lesbians, bi women, and anyone across trans, nonbinary, gender non-conforming, & queer identities with a relationship to lesbian culture, history, or identity.
Taking the form of a print newsletter & taking after lesbian newsletters like Vancouver's
Diversity: The Lesbian Rag
(1988-91), New York's
Dyke: A Quarterly
(1975-79), and Victoria's own
LesbiaNews
(1989-98), DYKE NEWS hopes to be a resting space amidst the noise & pixels of today's communications.
DYKE NEWS is for grounded connection and conversation that brings us into tangible relationship with each other. For community news rooted in the places we live. And for the strengthening of networks resilient & resistant to white supremacy, settler colonial occupation, cisheteropatriarchy, and the many structures of power that are actively building and maintaining the social, racial, economic, and climate crises we are living in.
Back issues are available to purchase
here—
click through to purchase a single issue or subscribe for the whole year (4 issues), canadian / international / reduced rates for BIPOC & disabled folks are available.
Previous Issues

The Dyke has been in print a whole year! See below for a glimpse into the work we've put out across our first four issues.
Issue 1, May 2022
Issue 2, August 2022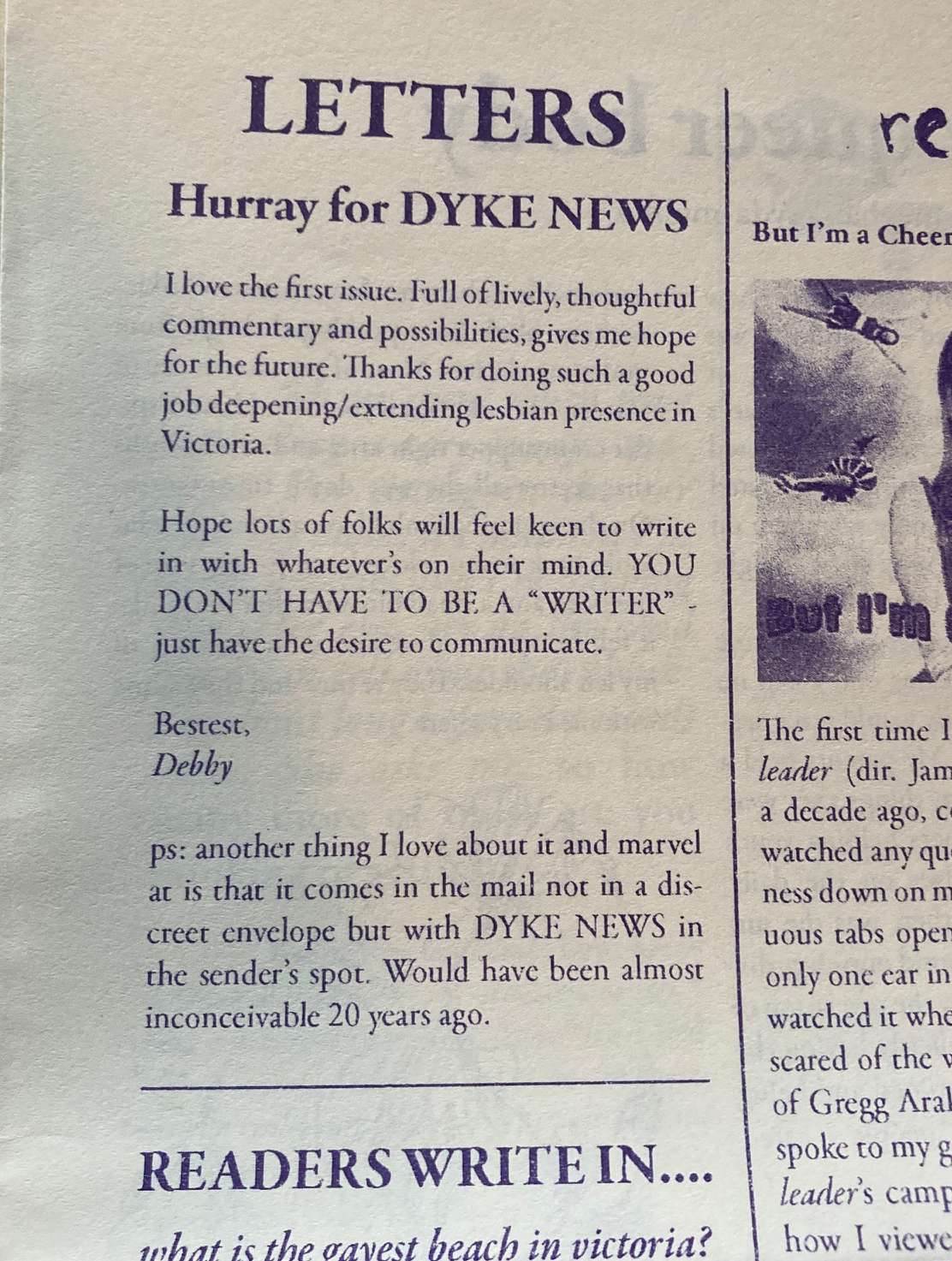 Issue 3, November 2022 - Ancestry & inheritance
Issue 4, February 2023 - Butch & femme
Distribution
pick up copies of The Dyke in-person at the following distribution spots!! (pls note availability of individual issues will vary)
lekwungen territory (victoria, bc)
camas books & infoshop, 2620 quadra
brass iris studio, 941-B esquimalt rd
duwamish territory (seattle, wa)
left bank books, 92 Pike St B
DYKE NEWS
is created by Kara Stanton, a white nonbinary dyke of Ukrainian, Scottish, and Irish ancestry living on Lekwungen territories, a writer and cultural worker committed to realizing community spaces in print and in person; & a generally anxiety-ridden Alison Bechdel stand-in. They can't wait to see what news the dykes have to offer. :-)
If you're interested in getting involved with
DYKE NEWS
,
get in touch
!